Metropolitan of Chengannur Diocese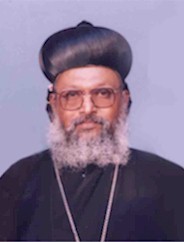 His Grace The Most Rev Thomas Mar Athanasios
Metropolitan of Chengannur Diocese.
Thomas was born in a family of Kizhakkethalakka, Puthenkavu, on 3 April 1939. His father—Mr KK Thomas—was the brother of Late His Grace Geevarghese Mar Philaxinos, and his mother was Mrs Aliamma of Thevervelil family, Kozhenchery. The high school education was at MD Seminary School, Kottayam and did the intermediate from CMS College, Kottayam. Having obtained BSc and B.Ed from SB College, Chenganachery, he took MEd from MS University, Baroda. In addition, he had his BD from Serampore University.

He was ordained as deacon on 7 May 1970 by H.H. Baselios Augen, and priesthood on 26 May, same year, by His Grace Late Daniel Mar Philaxinos.

Fr Thomas was serving parishes in North India such as Anand, Baroda, Bhavanagar, Jamnagar, Kajkot, Udaipur, Porbander, Surat, Bandra, Andher, and many. It was with his relentless efforts that parishes like Andheri, Udaipur, Baruch, Surat, Rajkot, Gandhigram, etc. formed. He founded St Basil School, Baroda, and MGM School, Kalol. He was also the founder Vice-President of Baroda Guidance Society and President of St Basil Society.

Fr Thomas was elected to be a Bishop on 20 December 1982 and moved to the order of Ramban on 14 May 1983. He was ordained as Bishop on 15 May 1985 and was given charge of the newly-formed Chengannur Diocese. He is dedicating fully himself to the growth of the church.

His Grace is also working as the secretary to the Holy Episcopal Synod, till recently, Manager of Catholicate and MD Schools, and as Othera Dayara Bishop. He had represented our Church in WCC in 1987, at Madrin, Spain.

Life Line
Diocese: Chengannur
Original Name: Thomas
Date of Birth: 3 April 1939
Ordination (Deacon): 1970
Ordination (Priest): 1970
Ordination (Bishop): 1985

Present address

Bethel Aramana,
Chengannur,
Kerala – 689 121
India
Tel.: + 91 0479-2451331
+ 91 0479-2453310