His Grace Dr. Gabriel Mar Gregorios Metropolita
The parish is justly proud and pleased to have one of its own, Rev. Fr. Dr. K. J. Gabriel, consecrated as Metropolitan, His Grace Dr. Gabriel Mar Gregorios, by the Catholicos of the Apostolic Throne of St. Thomas and Malankara Metropolitan, H.H. Baselios Mar Thoma Mathews II, at the Parumala St. Peter and St. Paul Seminary Church on 5th March 2005. We are therefore deeply humbled and rejoice, for this act of consecration gladdens all of us with bright joy.
Fr. Dr .K. J. Gabriel was born as third son of Chacko John (Kanjikkal, Thumpamon) and Aleyamma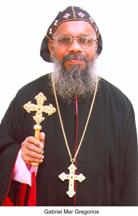 (Mulamoottil, Kudassanad) on 26 February 1949. Early education was at St. Stephen's High School, in Pathanapuram. After graduation from Baselios College, Kottayam, he completed the studies in Theology at the M.D. Seminary in Kottayam and Serampore University. Catholic University of Paris ("L'Institut Catholique de Paris" - ICP) awarded him M.Th. in New Testament. Research work on the epistles of St. Paul was done at the Lutheran School of Theology in Chicago and post-doctoral Research at Cambridge University.
Ordained as Deacon on November 4, 1969 and as Priest on February 8, 1974, Fr. Gabriel was Vicar of various parishes at Churches in Bombay, Delhi, Kottayam, and Trivandrum Dioceses for over thirty years. He was Registrar and Director of F.F.R.R.D. and competently represented the Church at ecumenical organizations such as Orthodox-Marthoma Dialogue Forum, Orthodox-Lutheran Dialogue Forum, Bible Society Kerala Auxiliary Committee, and Theological Literature Forum. He is a Fellow of George Bell Ecumenical Institute, England and Professor of New Testament at the Orthodox Theological Seminary in Kottayam since 1982. In addition he is an Administrative Committee Member of Serampore University. His Grace has authored many Theological Books like, "Towards a New Humanity", "Towards the Grace of God", "Cross and Grace", etc.
In addition to proficiency in English and Malayalam (Mother tongue), His Grace has fair knowledge in Aramaic, French, German, Greek, Hebrew and Syriac.
Our Try magazine Yuvadeepthy advisory committee is blessed with the valuable guidance and presence from Dr.Garbrial Mar Gregorious Metropolita .
Source : www.kudassanad.com