Our Church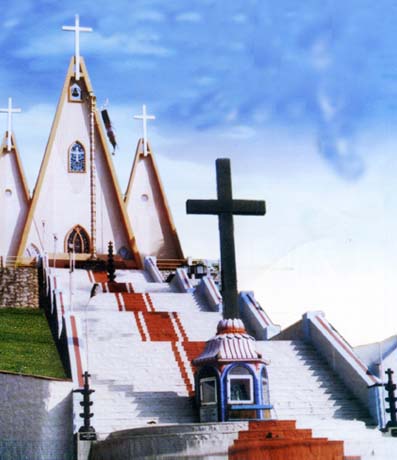 Kudassanad is a Christian dominated township blessed with great natural beauty. The early Christians of this area are believed to have come from the regions of Nilackal. Archaeological evidence proves that up to 14th century Nilackal was a thriving Christian settlement. The Christian communities enjoyed here a wholesome and vibrant life, interacting with the neighbouring kingdoms. However, gradually they had to flee to other areas, such as Aruvithura, Chengannur, Kallooppara, Kanjirappally, Kodassanad (Kudassanad), Mallappally, Poonjar, Ranni, Thumpamon and Vaypur due to certain natural calamity or as a result of the depredations of folks from the neighbouring areas. The newcomers found the place congenial for cultivation and conducting trade. The Kings of Pandalam dynasty, the erstwhile rulers, gave them land and enabled them to practice their religion.

The Kudassanad St. Stephens Cathedral is a very ancient and famous parish unit in the Diocese of chengannur of the Malankara Orthodox Syrian Church. It is situated in the centre of palamel and Kurampala villages. Our forefathers worshipped firstly in St. Thomas Cathedral Kadampanad and afterwards in St. Marys Cathedral, Thumpamon. Due to the long journey of worship, they decided to build a church at Kudassanad itself. Firstly they decided to build the church at pappadikoikkal junction, but due to some technical problems, they changed their decision and selected "Vyippin kunnu", a near by mountain (later it is renamed as St. Stephen's Mount) and constructed a small church with Bamboos and palm leaves.
(On every year, there is a church procession is Pappadikoiekal junction on the main day of the fest of St. Stephen's)

Stages of Growth

It is firmly believed that the present church is the fourth one. The previous church the third one, was established in 1872. It was very beautiful with different kinds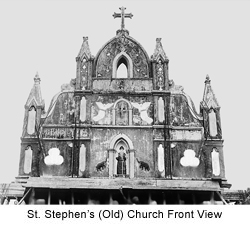 of art works and picture of St. Stephen. After 100 years in 1972 H. G. Daniel Mar Philoxenos, Metropolitan of Thumpamon Diocese, laid the foundation stone for the present church. On 23rd January 1984 the church was conscecrated by H.H. Baselios Mathews I, the Catholicose of the East, as chief celebrant and H.G. Daniel Mar Philoxenose as co-celebrant. Rev. Fr. K. M. Thomas was the Vicar of the church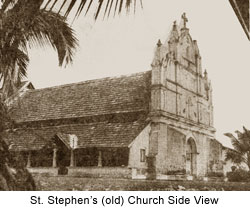 On 1989 April 22nd H.G. Daniel Mar Philoxenose, declared the Parish as a Cathedral of Malankara Orthodox Church. Before the establishment of chengannur Diocese in 1985, this Cathedral was the part of of Kollam and then Thumpamon Diocese. It was the one and only Cathedral in the Diocese of Chengannur at the beginning.


Festivals, Celebrations, Special programs etc..

The main festival is on makaram 7th and 8th, the day of Holy feast of St. Stephen. This big festival is celebrated for 10 days. On 7th there is Tri-mass by any of the three parish priests and all believers will attend the special prayers for the passed parish priests and all the diseased at the cemetery and there is a procession in the night. (To cover the limits of the parish, there should be festival procession of concecutive three years).
On 8th, there will be Holy Qurbana in five altars under the leadership and guidance of metropolitans of different dioceses and thereafter public meals to all the participants. From 2 p.m. onwards there will be grand procession from the Cathedral to Pappadikoyikal junction where our forefathers first planned to construct the church but changed that idea due to some technical reasons. This procession continues from generations without fail. Besides the most important festival there are festivals and processions in connection with the birth and death of Holy Mary, St. Thomas, St. George, St. Parumala mar Gregorios and St. Yona. Under the leadership of the Youth league of the church, there is pilgrimage to Parumala and to the tomb of St. Vattasseril Mar Divanasios.

Prayer Home
On 22-01-1984 H.H. Baselios Mathews I Catholicos installed the Holy reliese of St. Parumala mar Gregoriose in our parish. In1992 H. G. Geevarghese Mar Dioscoros consecrated the prayer home where the Holy Relies of St. Parumala mar Gregorios is installed. Now this centre is most convenient for the believers to worship.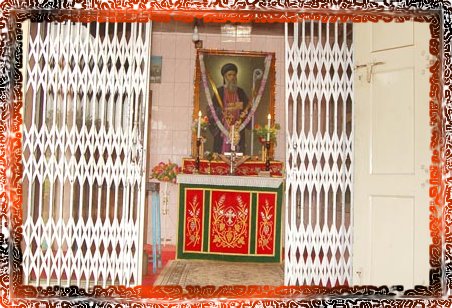 on 07-4-2018 Chengannur Diocese Metropolitan HG Thomas Mar Athanasios, Assistant Metropolitan HG Dr. Mathews Mar Thimothios & Thrivandaram Diocese Metropolitan Gabriel Mar Gregorios installed the Holy reliese of St. Stephen our parish.
Present address

St Stephens orthodox Cathedral
Kudassanad P.O
Pandalam
Kerala-689512
India
Tel.: + 91 4734 252134